Darkness & Light
Live in the light. But acknowledge the richness that can be found in the darkness.
"Darkness" as I refer to it, might be a part of ourselves we aren't seeing clearly, or even that we dislike. It might also be a situation in life that seems "bad" or uncomfortable.
What if darkness is really just something the light has not yet reached? Therefore the things we don't like are not bad or dark — but rather ripe with potential? Ready to be transformed — or to transform us — at the appropriate time?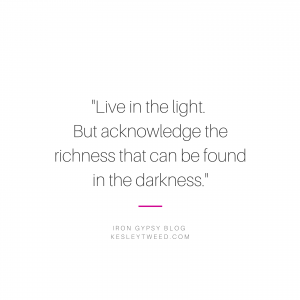 I say that because, do you know what I saw when I looked into my own darkness? I saw that the most challenging times have brought the greatest gifts and deepest healing. I saw that the parts of me I rejected were really just a scared little girl that was ready to be set free so she could step into her full power.
My hope is that in any darkness we may go through — especially the challenges of present times — that we remember there is always light to be found.
Namaste, my dear friend.
Magic Questions:
Are there part of you that you don't like or reject? How can the same qualities you see as "bad" actually be a gift in disguise, misdirected or misunderstood?
What challenges are you currently facing? How might they be providing an opportunity to grow?
What dark or painful times have you been through? If you look deeper, what gifts can you find? How did you become stronger? How did these times shape who you are today?
If you want to go deeper into your own opportunities to transform darkness into light, contact me to learn about how Gallup Certified Strengths Coaching and Astrology can help.